Last week I had the pleasure of attending the meeting of the Children's Oncology Group in Denver, Colorado. This is the umbrella organization of pediatric oncologists in the US and Canada. Together, we conduct clinical trials to figure out what is the best treatment for each type of cancer that kids get. Once a year, we all get together to discuss the result of our trials to date and to discuss the plans we have for future trials.

There were more than 10,000 people at the conference in Denver, CO, including physicians, nurses, data managers, and administrators. It was a great pleasure to see my friends and colleagues once again and to hear the updates about the progress we have made since last year. I took some pictures while I was there… pretty silly ones, but really, if you had to choose between posed pictures and silly pictures, what would you choose?

The first picture is from the lobby of the Adam's Mark Hotel in downtown Denver. They had these lovely horses that were guarding us (and I, for one, was glad to be guarded).
These horses, I assume, guarded more than just us….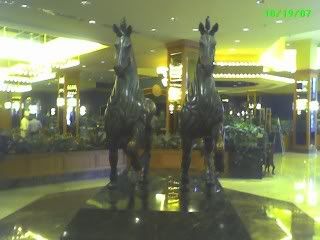 Every morning we were served a wonderful breakfast of coffee, pastries, and fruit. This allowed us the opportunity to socialize in a relative unformatted atmosphere. This is a very important function of the meeting – being able to network and form connections from one institution to another.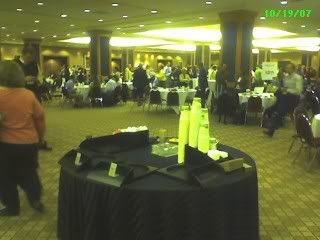 Of course, it wasn't all work... what business trip is? They left us time to relax, because all work and no play makes Jack… OK… maybe none of use are like that, but we certainly need a break now and again. I spent one afternoon walking through the city, and happily discovered that Denver is not at all what I expected. I tried to take pictures, but that day I only had my cell phone camera with me, and that lens doesn't do the scenery justice at all. So instead, I have a picture of the Colorado state capitol building, which I also thought was lovely. I caught it on a great day, with bright sunshine to reflect off the gold dome.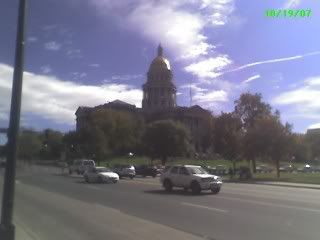 Like all trips, though, this one quickly drew to a close, and just in time - the day after I left, it snowed 4 inches! Now, for the residents of Denver, that is probably no big deal, but here in Baltimore, 4 inches of show shuts down the city for the day.

On an unrelated note, it seems mine is not the only medical blog to originate at Johns Hopkins. My colleague Lillie Shockney writes a blog for Yahoo! called Breast Cancer Chronicles. It's really quite good, which makes sense given her role here as administrative director of the Johns Hopkins Avon Foundation Breast Center and a breast cancer survivor.